July 15, 2021
Alert Fatigue: Refining Accuracy to Reduce Burden
Today's healthcare technologies help streamline workflows, improve the patient experience, and manage the quality and cost of care. However, despite recent improvements, Electronic Health Records (EHR), Clinical Decision Support (CDS), and similar systems are still lacking in some areas. For example, conventional systems are commonly known to send irrelevant alerts, which are disruptive and often provide little assistance. Nearly 70% primary care providers report these alerts are unmanageable.
High alert volume, coupled with low clinical relevance, has led many clinicians to alert fatigue—a scenario in which clinicians receive so many clinically irrelevant alerts that they become desensitized to all alerts, regardless of their relevance and value. As a result, clinicians lose trust in the alerts and may fail to acknowledge the appropriate ones, perpetuating this vicious cycle and putting themselves and their patients at risk.
While alerts are peppered throughout EHRs for a variety of tasks, the low accuracy of medication alerts make them particularly susceptible to being overlooked. A study of almost 400,000 prescriptions at the largest tertiary care center in Israel found that just over 37% of the prescriptions triggered at least one alert. However, only 5% were accepted. Not only were the majority of alerts overridden, but the overriding was found to be justified, often due to irrelevance to the specific condition. There exists a need for less noisy and more relevant, actionable alerts within the technologies providers use daily.
Cutting Through the Alert Clutter with AI
Conventional EHR and CDS systems rely on rules-based alerts that primarily identify dosage irregularities and drug-drug interactions. While they may be helpful to an extent, these rules are not personalized to the patient's clinical state and the exact clinical situation in question. Alerts need to take into account the patient's full medical history, lab results, vitals, and diagnoses.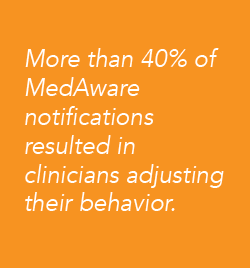 Sorting through thousands of data points in a patient's chart to get this level of information and identify possible medication errors and risks simply isn't possible. To provide clinicians the detailed, context- and patient-specific, real-time insights they need for the most informed decision making, CDS systems must leverage larger, dynamic datasets and machine learning algorithms.
Artificial intelligence (AI) systems are the answer for delivering highly personalized alerts within existing technologies—whether in the EHR, CDS, or other digital solutions. AI systems have the unique ability to provide more clinically relevant alerts, which then increases clinician confidence in and attention to future alerts. Serving up more relevant, patient-specific alerts also results in fewer irrelevant alerts, which helps to reduce alert fatigue and improve patient safety.
Case Study: Increasing Accuracy to Reduce Alert Fatigue
To prove the connection between increased accuracy and reduction in irrelevant alerts, MedAware conducted a study in which it replaced a legacy drug-drug interaction knowledge base at an Israel-based hospital with its AI-enabled patient safety platform. The results are shown below.

The study showed a lower alert volume with higher accuracy when leveraging MedAware's AI technology. More importantly, though, was the impact it had on clinicians, with 43% of the alerts resulting in clinicians adjusting their behavior.
The Future of AI-Based Medication Alerts
Increasing the clinical relevance of alerts through deeply embedded AI tools will inherently reduce volume and associated alert fatigue, but its benefits reach far beyond clinician and patient well-being. There is added benefit to the healthcare ecosystem in reducing avoidable prescription errors, which results in annual healthcare costs in excess of $21 billion and 3.8 million hospital admissions in the US alone.
Current tools can only go so far in detecting and presenting clinically relevant medication alerts. Adding AI within existing technology provides an added layer of safety for the technology, health system, providers, and patients.
Interested in learning more? Download our eBook to discover how to reduce medication risk with clinician-driven AI.

Additional reading you may be interested in: